Star Smart
2015-08-01-11:07

So a certain
Derek Smart
has created kind of a shit storm about
Star Citizen
.
He wrote three articles on his own blog .
It was not until the second one everything took off in a major way.
I will not link them since they do not deserve more attention,
If you want to read them you can find them quite easily via google



In short Mr. Smart claim to know (for a fact) what Chris Roberts's
Cloud Imperium is doing amounts to nothing more than
a scam.
He states that Star Citizen as it is currently described can not and will not be made.
He also claims to have had paid investigators look into the matter.
Secret documents and informants.
All the while constantly referring back to his own so called reputation as a
experienced game developer
(not to mention making sure his own new project is described in each and every paragraph).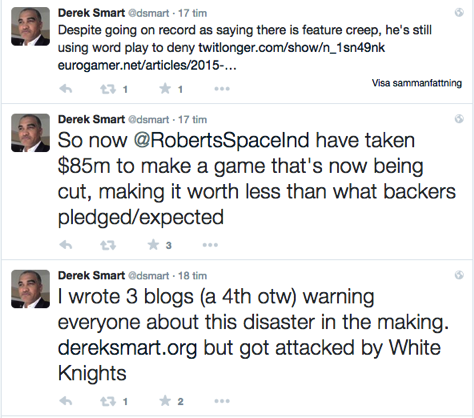 I have payed for and owned several of Mr. Smarts games.
I had VERY high hopes for Battlecruiser 3000AD and the following
titles. The game promised so very much.
But when it truly came down to it the game kept very few of those promises.
Mr. Smart states that his games are made for true diehard fans of the genre.
That most crititcs do not understand the genre.
Do not read the (extremly) lengthy manual etc.
Now this may or may not be true.
But the game objectivly sucked in a major way.
The worst of it was that all the time playing it (or trying) it hinted of the greatness.
BC3K is the game that never truly was what it claimed to be.
But still very alluring.
I would go so far as to say it is not even worth playing for free.
You can find it on steam. But do not bother unless you are simply curious.

I backed Star Citizen back in 2012. I put down a fair bit of money then. Later a bit more.
The thing about Star Citizen is this: The game is supposed to be free.
Or rather the online/multiplayer part of it at least.
So not only do they need to secure funding for the creation of single and multiplayer.
But they also must make sure they have funds to keep the blasted thing alive for a
good while AFTER it is out.

To make matters even worse the game it self sets the bar pretty damn high.
Both in graphical terms but also when it comes to immersion and game mechanics.
When (and if) it comes out it may end up being the new de facto standard of space games.

Features is one of Mr. Smarts complaints.
Or rather the "feature creep" he claim the game suffers from.
He goes on and on and on about it. It is quite a read to be honest.
It is like he tries to hammer it in because it's his only option to win the argument (he started).
In the end most of it amounts to a wall of text about nothing.
Most of the "creep" are in fact mentioned in the original videos.
The newtonian physics. The first person POV.
Even the FPS parts and multiplayer support are mentioned.
They clearly state that the game will have both single player AND a persistant
multiplayer universe where friends will be able to share ships etc.

What has happened as time have gone by is this:
More detailed specifications of what all these things entail have surfaced.
Publication of lists and higher resolution text of what these game mechanics are and how they will work.
But Derek Smart, whith all his experience, do not understand the difference.
Perhaps do not want to.
He even uses a deliberate tactics of belittle anyone and all who defends Star Citizen.
All the while mentioning his own new game all the bloody time.

The next annoying thing is the fact that a game of this scope and complexity takes time to make.
Especially if you want to do it the right way and in the same time make sure it becomes a "WOW" title.
The fact that it is not ready yet is turned against it.
The fact that the original release date has come and gone is also a sign of impending doom.

Three years! This is the time which has gone by since the Kickstarter.
During which there has been a flood of feedback.
Yes they have spent time on ship designs.
Virtual goods which people (me included) have been able to buy.
Yes they have created "modules" which slowly have showed off ships and small
parts of the mechanics.
They are not intended as games but still they offer something.

But all this (and more) which should be said to be good things in a crowd funded
project are offered as "proof" of fraud and incompetence - by Mr. Smart.

So can the game fail?
Yes. It can. It is possible it will come crumbling down like a house of cards.
With the 85 million USD (so far) collected it could be the most spectacular
failure in crowd funding history.
It could even kill off the whole movement of crowd funding (games).

But is this a certain thing? Hell no!
Neither I or Derek Smart has a magic eight ball which sees the future.
He states that this game will never ever be made.
That nothing of what Chris Roberts claims will come true.
That it is simply impossible. This is a "FACT", as Derek Smart likes to call it: "it's a fact".
Words and statements do not become fact simply by making them.
He tries to back them up with links and ALOT of words and "facts".
But in the end all they amount to is assumtions and opinions.

His first article even starts with a disclaimer saying that it is his opinions which follows further down.
That it should not be taken as factual evidence or truth.

Well Mr. Smart. This is simply put not your opinions. Your are pure and simply wrong.
No more, no less.

The only truth here is that he do NOT know what the future holds.
He do NOT know if Star Citizen will fail or triumph. In fact he knows nothing what so ever.

When it comes down to it; Derek Smart has not written one single line of code OR made any game
that comes even close to the legacy of Chris Roberts.
Wing Commander on the Amiga was a better game in every sense compared
to ALL games Derek smart has ever made. Something that goes double for the BC3K series.

Derek Smart desperatly wants to be what his name say.
He really, really wants to be the one holding the torch of truth and justice.
He wants to show off how much experience he has and he alone truly knows what's going on.
But he simply does not.

Personally I will wait and see. THEN and only then will we truly know if
Star Citizen is a failure or not.

But I have taken screenshots of some of Mr. Smarts statements.
Simply to be able to rub it in his electronic face if he happens to be wrong.



59 Subscribers & 10.635 Views!

Minecraft Wiki
2015-04-05-13:10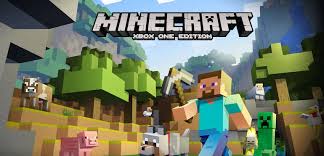 Read the full article here:
http://en.wikipedia.org/wiki/Minecraft
Minecraft
is a
sandbox
independent video game
originally created by Swedish programmer
Markus "Notch" Persson
and later developed and published by the Swedish company
Mojang
. The creative and building aspects of
Minecraft
allow players to build constructions out of textured cubes in a
3D
procedurally generated
world. Other activities in the game include exploration, gathering resources, crafting, and combat. Multiple gameplay modes are available, including
survival modes
where the player must acquire resources to build the world and maintain health, a
creative mode
where players have unlimited resources to build with and the ability to fly, and an
adventure mode
where players play custom
maps
created by other players.
The
alpha version
was publicly released for
PC
on May 17, 2009, and after gradual updates, the full version was released on November 18, 2011. A version for
Android
was released a month earlier on October 7, and an
iOS
version was released on November 17, 2011. The game was released on the
Xbox 360
as an
Xbox Live Arcade
game on May 9, 2012; on the
PlayStation 3
on December 17, 2013; on the
PlayStation 4
on September 4, 2014; on the
Xbox One
the next day; and on the
PlayStation Vita
on October 14, 2014. On December 10, 2014, a
Windows Phone
version was released.
[14]
All versions of
Minecraft
receive periodic updates, with the console editions being co-developed by
4J Studios
.

Minecraft
received five awards during the 2011
Game Developers Conference
. Of the
Game Developers Choice Awards
, it won the Innovation Award, Best Downloadable Game Award, and Best Debut Game Award; from the
Independent Games Festival
, it won the Audience Award and the Seumas McNally Grand Prize. In 2012,
Minecraft
was awarded a
Golden Joystick Award
in the category Best Downloadable Game. As of October 2014, over 60 million copies had been sold, including 12 million on the Xbox 360 and 18 million on PC, making it the
best-selling PC game to date
. On September 15, 2014,
Microsoft
announced a deal to buy Mojang, along with the ownership of the
Minecraft
intellectual property
. It was worth $2.5 billion and was completed on November 6, 2014.
[15]
[16]
[17]
[..clip..]
Minecraft
is an
open world
game that has no specific goals for the player to accomplish, allowing players a large amount of freedom in choosing how to play the game.
[18]
However, there is an
achievement
system.
[19]
Gameplay by default is first person, but players have the option to play in third person mode.
[20]
The core gameplay revolves around breaking and placing blocks. The game world is composed of rough 3D objects—mainly cubes—arranged in a fixed grid pattern and representing different materials, such as dirt, stone, various ores, water, and tree trunks. While players can move freely across the world, objects can only be placed at fixed locations on the grid. Players can gather these material blocks and place them elsewhere, thus allowing for various constructions.
[21]
[..clip..]
Commercial

On January 12, 2011,
Minecraft
passed 1 million purchases, less than a month after entering its beta phase.
[110]
[111]
At the same time, the game had no
publisher
backing and has never been commercially advertised except through
word of mouth
,
[112]
and various unpaid references in popular media such as the
Penny Arcade
webcomic.
[113]
By April 2011, Persson estimated that
Minecraft
had made €23 million (US$33 million) in revenue, with 800,000 sales of the alpha version of the game, and over 1 million sales of the beta version.
[114]
In November 2011, prior to the game's full release,
Minecraft
beta surpassed 16 million registered users and 4 million purchases.
[115]
By March 2012,
Minecraft
had become the 6th
best-selling PC game
of all time.
[116]
As of October 10, 2014, the game has sold 17 million copies on PC, becoming the best-selling PC game of all time.
[117]
As of October 10, 2014, the game has sold approximately 60 million copies across all platforms, making it one of the
best-selling video games of all time
.
[117]
[118]
On February 25, 2014, the game reached 100 million registered users.
[119]
AlienGamer is a donor to Wikipedia Foundation. Are you?
If not, go
HERE
and put down a donation?



Minecraft
2015-04-01-12:51
Minecraft is without doubt one of my favourite games of all time.

It is not only the creativity it offers.
Neither is it the predictable unpredictability of the world of Minecraft.
Multiplayer and modding is also fantastic. All these things are great.
Among the best computer gaming has to offer,
and it works on most computers independent on OS.
No it is simply this: When all else has turned to shit in your life,
Minecraft is always there to offer a safe nice and very fun environment to take it out of you.
THEN, after that, all the other stuff comes into play.
It's a computer game version of contemplative meditation - kind of.

Also, the game does not try to decide anything (but the basic parameters).
Instead YOU, the player, has to decide what to do. What your story is going to be.
This is one of the best features of the game.

Another great personal favourite of mine is the fact that most of the game
involves creating things. Most games nowdays are based around conflicts and
destruction. It is present in Minecraft too. But only in a small way. You can
totally avoid it if you put your mind into it.

As I get older I find my self wanting more laid back games. Things I can sit back
and do what I do without to much stress and hectic action. Now, I like action games
like the next guy. But in smaller and smaller doses as time goes by.

Minecraft is not without its faults however.
Despite its fairly primitive graphics it still runs a bit slow.
But it has been improved in later versions.
Also the very sparse in game information is a pet peeve of mine.
But I do understand why they choose to do it that way.
But as the number of craftable blocks grows, so does the need for information.
The mod packages have improved somewhat upon this.
But the player still need do leave the game,
go to some wiki, and look things up in order to get the know on how stuff are working.

I have always enjoyed vanilla Minecraft.
This is a nerdy way of relating to the un-modded version of Minecraft.
But I do however like mod packages like "
Feed the Beast
", "
Technic
" or "
AT Launcher
".
They all offer a multitude of different mod packages. Each with their own different style.
One I'm particulary fond of is "SkyFactory2", which is quite challanging and very fun.

So yes, I have MC installed on practically every computer I own.
I could not see any time of gaming without it.
Imagine that! It is not even an AAA game (despite Microsoft now owning Mojang).
I've lost count on how many different bases I have built during the years.

So these are some of my arguments why Minecraft is one of the best game ever,
on my list at least....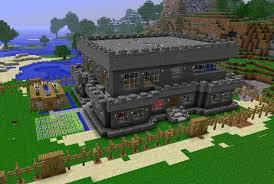 49 Subscribers - 9.415 Views