Minecraft
2015-04-01-12:51
Minecraft is without doubt one of my favourite games of all time.

It is not only the creativity it offers.
Neither is it the predictable unpredictability of the world of Minecraft.
Multiplayer and modding is also fantastic. All these things are great.
Among the best computer gaming has to offer,
and it works on most computers independent on OS.
No it is simply this: When all else has turned to shit in your life,
Minecraft is always there to offer a safe nice and very fun environment to take it out of you.
THEN, after that, all the other stuff comes into play.
It's a computer game version of contemplative meditation - kind of.

Also, the game does not try to decide anything (but the basic parameters).
Instead YOU, the player, has to decide what to do. What your story is going to be.
This is one of the best features of the game.

Another great personal favourite of mine is the fact that most of the game
involves creating things. Most games nowdays are based around conflicts and
destruction. It is present in Minecraft too. But only in a small way. You can
totally avoid it if you put your mind into it.

As I get older I find my self wanting more laid back games. Things I can sit back
and do what I do without to much stress and hectic action. Now, I like action games
like the next guy. But in smaller and smaller doses as time goes by.

Minecraft is not without its faults however.
Despite its fairly primitive graphics it still runs a bit slow.
But it has been improved in later versions.
Also the very sparse in game information is a pet peeve of mine.
But I do understand why they choose to do it that way.
But as the number of craftable blocks grows, so does the need for information.
The mod packages have improved somewhat upon this.
But the player still need do leave the game,
go to some wiki, and look things up in order to get the know on how stuff are working.

I have always enjoyed vanilla Minecraft.
This is a nerdy way of relating to the un-modded version of Minecraft.
But I do however like mod packages like "
Feed the Beast
", "
Technic
" or "
AT Launcher
".
They all offer a multitude of different mod packages. Each with their own different style.
One I'm particulary fond of is "SkyFactory2", which is quite challanging and very fun.

So yes, I have MC installed on practically every computer I own.
I could not see any time of gaming without it.
Imagine that! It is not even an AAA game (despite Microsoft now owning Mojang).
I've lost count on how many different bases I have built during the years.

So these are some of my arguments why Minecraft is one of the best game ever,
on my list at least....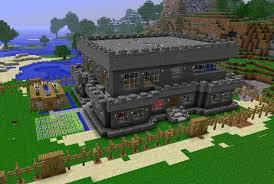 49 Subscribers - 9.415 Views